Force - Songs, Lyrics and Videos
Year: 2011 Artist: KK
Share on Facebook
Share on Twitter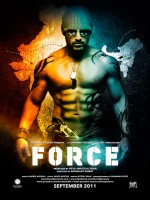 Force is remake of Tamil movie "Kaakha Kaakha". Music of Force is composed by Harris Jayaraj who gave music in many Tamil films like Kaakha Kaakha, Ghajini (tamil) etc. This song Khwabon Khwabon is sung by KK. This song is being promoted in force trailer.
Full song is not released yet. But It is exactly same tune as in tamil version "Uyirin Uyirae" tamil version was also sung by Kay Kay . and Tamil version sounds better than Hindi as far as Kay Kay's voice is concerned. Only lyrics are tweaked everything else is kept intact.

Songs of movie force are penned by Javed Akhtar, and music is composed by Tamil Music Composer Harris Jayaraj. Music rights of move force are acquired by T-Series. and music album will release under T-Series label.
Force movie Star Cast: John Abraham, Genelia D'Souza.