Year: 2012 Artist: Justin Bieber
Share on Facebook
Share on Twitter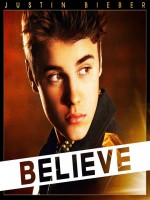 'Believe' is Justin Bieber's third studio album. It is schedule to be released in early 2012. Justin Bieber Teams Up With Kanye West And Drake this album 'Believe'.
Released: June 19, 2012
Recorded: 2011-2012
Label: Island, RBMG, Schoolboy
Bieber has said that he wants his next album to recall
Justin Timberlake's Future Sex/Love Sounds
sonically.
"Boyfriend"
is released as the lead single from album on March 26, 2012. It was written by Mike Posner, Justin Bieber, Matthew Musto.
Tags: Justin Bieber new album 2012, Believe Justin Bieber, Believe Justin Bieber Lyrics, Believe Justin Bieber Tracklist, Believe Justin Bieber Release date, Believe Justin Bieber Songs, Believe Justin Bieber Lyrics & Videos, Believe Justin Bieber ft Drake, ft Kanye West Believe Justin Bieber Lyrics, Drake ft Justin Bieber Believe