Housefull 2 - Songs, Lyrics and Videos
Year: 2012 Artist: Sajid-Wajid
Share on Facebook
Share on Twitter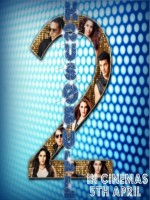 Housefull 2: The Dirty Dozen has music composed by Sajid-Wajid prequel of the Housefull 2had the music of Shankar-Ehsan-Loy but this time producer are having music by Sajid-Wajid.
Housefull 2 Music Album will have a item number which will feature Malaika Arora Khan.
A song "Papa Toh Band Bajaye" is leaked on youtube. The leaked video is a making of the song which features Akshay Kumar, Riteish Deshmukh, John Abraham, and Shreyas Talpade dressed in colourful tuxedos. And they are dancing on the song "Papa Toh Band Bajaye".

Tags: Housefull 2 songs, housefull 2 lyrics, housefull 2 songs lyrics, housefull 2: The Dirty Dozen Lyrics and Video Songs, Housefull 2 music Album.