Bittoo Boss - Songs, Lyrics and Videos
Year: 2012 Artist: Mika Singh, Raghav Sachar, Neeti Mohan, Natalie di Luccio
Share on Facebook
Share on Twitter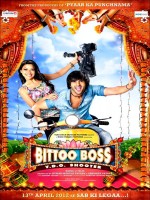 Music of Bittoo Boss is composed by Raghav Sachar and Lyrics are penned by Kumaar.
Sound Design of Bittoo Boss is done by Baylon Fonseca. Album also has some double meaning songs. Wordings of one song of Bittoo Boss goes like "Bittoo Sabki Lega" which is rendered by Mika Singh along with Neeti Mohan, Natalie di Luccio.

Tags:Bittoo Boss Songs Lyrics, Bittoo Boss songs, bittu boss songs, bittoo boss mika, bittoo boss videos.