SHOR In The City - Songs, Lyrics and Videos
Year: 2011 Artist: Shreya Ghoshal, Tochi Raina,
Share on Facebook
Share on Twitter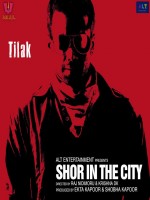 The songs are composed by Sachin-Jigar and Harpeet. Two songs from Harpreet have been taken from his Sufi compilation called Teri Justujoo released by Sony a couple of years back. Lyrics are penned by Sameer and Priya Panchal.