Skyfall (2012) Soundtrack Album
Year: 2012
Share on Facebook
Share on Twitter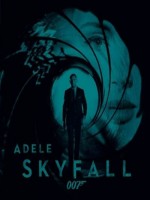 Skyfall is the upcoming twenty-third spy film in the James Bond series, produced by Eon Productions for MGM, Columbia Pictures and Sony Pictures Entertainment.

Thomas Newman, who worked with Sam Mendes as composer for American Beauty, Road to Perdition, Jarhead and Revolutionary Road replaced David Arnold as composer.

Adele had written and recorded the film's theme song with her regular songwriter, Paul Epworth.