21st Century Breakdown Album
Year: 2009 Artist: Green Day
Share on Facebook
Share on Twitter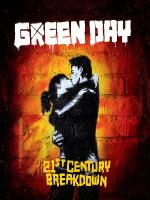 21st Century Breakdown is the eighth studio album by the American punk rock band Green Day. It is the band's second rock opera, following American Idiot, and their first album to be produced by Butch Vig. Green Day commenced work on the record in January 2006. Forty-five songs were written by singer and guitarist Billie Joe Armstrong by October 2007, but the band members did not enter studio work with Vig until January 2008. The writing and recording process spanned three years and four California recording studios and was finished in April 2009.
21st Century Breakdown was released May 15, 2009 through Reprise Records. Armstrong has described the album as a "snapshot of the era in which we live as we question and try to make sense of the selfish manipulation going on around us, whether it be the government, religion, media or frankly any form of authority". The singles, "Know Your Enemy" and "21 Guns" exemplify the themes of alienation and politically-motivated anger present in the record.
Critical response to 21st Century Breakdown was generally positive. Critics praising the album considered the composition and Armstrong's lyrics a success; skeptical reviewers were critical of the album's concept, describing it as vague and directionless. The record achieved Green Day's best chart performance to date by reaching number one on the album charts of various countries, including the United States Billboard 200, the European Top 100 Albums, and the United Kingdom Albums Chart. It was awarded the Grammy Award for Best Rock Album at the 52nd Grammy Awards held on January 31, 2010. As of December, 2010 21st Century Breakdown has sold 1,005,000 copies in the United States and more than 3.5 million worldwide.