The Bartender - Classic Bollywood With A Twist - Songs, Lyrics and Videos
Artist: The Bartender
Share on Facebook
Share on Twitter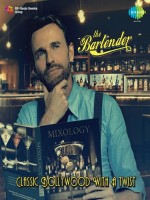 The Bartender-Classic Bollywood with a twist is an Hindi album by Mikey McCleary released under Sony DADC Manufacturing India label: In this album, Mikey McCleary has chosen some of the most loved songs from the 50s, 60s and 70s and reinterprets them with jazzy, seductive and mischievous flare using various genres and a predominantly live band feel.
Says Mikey McCleary, 'A beautiful song is like a beautiful woman. The musical arrangements are like the clothes that she wears. The music recordings, much like clothes, may appear old and outdated to the younger generation, but the beauty of the song composition and lyrics are eternal. My goal is to give that beautiful song new clothes that suit and enhance her beauty for all to see afresh and enjoy. I personally also still love listening to the old recordings.'
Several remixes have damaged old songs. The Bartender's songs are not remixes. It's like Mikey has imagined what the old music arrangers would have done with the music back then if they had today's technology at their finger tips.