Phhir - Songs, Lyrics and Videos
Year: 2011 Artist: Toshi Sabri, Sharib Sabri, Raghav Sachar
Share on Facebook
Share on Twitter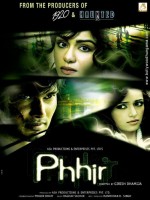 Vikram Bhatt Production: Phhir
Directed by: Girish Dhamija
Cinematographer: Pravin Bhatt
Music by: Raghav Sachar and Toshi - Sharib

Phhir Movie Plot: Kabir Malhotra (Rajneesh Duggal), a doctor with a good upbringing and a mind of his own marries Sia (Roshni Chopra) for love. A budding career and a seemingly happy marriage - what more could a man ask for? One day Sia disappears without a word. Disha (Adah Sharma) helps Rajneesh with clues that take him closer to unravel the mystery of his missing wife. But as they dig more and more they get their hands dirty. What has Disha seen? What has caused Sia to go amiss? As the plot thickens, all questions are answered in this thrilling suspense drama Phhir. The future is nothing but the past again... Phhir.