Sahi Dhandhe Galat Bande - Songs, Lyrics and Videos
Year: 2011
Share on Facebook
Share on Twitter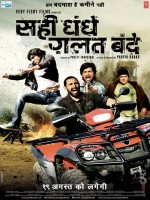 Sahi Dhandhe Galat Bande is the story of a gang comprised of four friends-Rajbir (Parvin Dabas), Sexy(Vansh Bharadwaj), Ambani (Ashish Nayyar) and Doctor (Kuldip Ruhil) who are given a job which will give them enough money to make all their dreams come true, but to achieve the same they will have to go against their conscience and the village, Kanjhawla, to which they belong. Goading them on to make this job successful is their boss, Fauji(Sharat Saxena), who stands to gain the most from the job's success and realize his dreams of becoming a politician.

On the road to completing this mission they come across a multitude of crazy characters which includes a guru and his wrestlers,a bunch of smart ass kids, a raging Chief Minister(Kiron Juneja Sippy),a Scheming Businessman(Anupam Kher),the Leader of the villagers(Yashpal Sharma), an angry Aunt(Neena Kulkarni), a college going Athlete (Udit Khurana) and a photographer Girlfriend(Tena Desae) who wants to move on with her life, while dealing with a boss who wants them to break his opponents legs and make mobile videos of it for evidence!

Sahi Dhandhe Galat Bande is an exciting and entertaining blend of action, comedy and heartfelt emotion which hurtles along against a landscape of both rural and urban india while boasting of some original and unique camerawork and a great soundtrack. It is written and directed by first time director, Parvin Dabas, who puts his own unique modern spin on a contemporary and original Indian story.

Tags: Lyrics of Naino Wali Whisky lyrics, galat bande songs lyrics, naino wali whisky lyrics, sahi dhandhe galat bande punjabi song.