Year: 2011 Artist: Glasses Malone Snoop Dogg, Akon, T-Pain, Rick Ross, Lupe Fiasco, Lil Wayne
Share on Facebook
Share on Twitter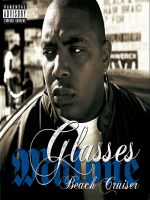 Beach Cruiser is the upcoming debut studio album by American rapper Glasses Malone. Originally to have been released in 2006, the album will be released on Glasses Malone's record label Blu Division Music, Hoo-Bangin' Records, Cash Money Records and Universal Motown. The album's release has been postponed several times since 2006. The album will be released August 30, 2011 on Cash Money Records and Universal Motown.
The album is named after the beach cruiser bicycle. In an interview Malone said, "It's called Beach Cruiser, everybody loves a Beach Cruiser. People love those bikes in the 'hood. It's classic, also when y'all gonna hear the music on the record it gonna be dope to a point where you just feel like there is some kind of cruise which you just ridin to the beach , so again I called it Beach Cruiser."
Released August 30, 2011
Recorded 2006-2011
Genre West Coast Hip Hop, Gangsta rap
Label Blu Division, Hoo-Bangin', Cash Money, Universal Motown
Producer Dedrick "Mack 10" Rolison (exec.), Ronald "Slim" Williams (exec.), Bryan "Birdman" Williams
Beach Cruiser Tracklist

1. "G Bo (Intro)"
2. "Kickstand"
3. "Eastsidin (feat. Snoop Dogg & Nipsey Hussle)"
4. "Certified (feat. Akon)"
5. "Dope"
6. "Off Safety (feat. Latoya Williams & Mack 10)"
7. "Hold On (Rare Breed) (feat. T. Lopez)"
8. "I Get Doe (feat. The Cataracs)"
9. "Rich N Thuggin (feat. Ya Boy)"
10. "Car Wash"
11. "Call Me T.I."
12. "Sun Come Up (feat. T-Pain, Rick Ross & Birdman)"
13. "No Sympathy (feat. Jay Rock)"
14. "Club Heaven"
15. "Feel Good Muzik (feat. Latoya Williams)"

Deluxe edition
No. Title Producer(s) Length
16. "My Turn (feat. Lupe Fiasco & Wyclef)"
17. "I'mma Pray (feat. Tyrese)"
18. "Go BiG"
19. "Fuc With Me (feat. Manny Fresh)"
20. "Haterz (feat. Lil Wayne & Birdman)"