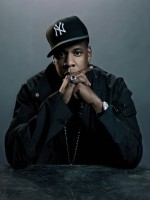 Shawn Corey Carter (born December 4, 1969), better known by his stage name Jay-Z, is an American rapper and businessman. He is one of the most financially successful hip hop artists and entrepreneurs in America, having a net worth of over $450 million as of 2010. He has sold approximately 50 million albums worldwide, while receiving thirteen Grammy Awards for his musical work, and numerous additional nominations.
Jay-Z co-owns the 40/40 Club, is part-owner of the NBA's New Jersey Nets and is also the creator of the clothing line Rocawear. He is the former CEO of Def Jam Recordings, one of the three founders of Roc-A-Fella Records, and the founder of Roc Nation. As an artist, he holds the record for most number one albums by a solo artist on the Billboard 200. Jay-Z also has had four number ones on the Billboard Hot 100, one as lead artist.
He married American R&B superstar Beyonce Knowles on April 4, 2008. On December 11, 2009, Jay-Z was ranked as the 10th most successful artist of the 2000-2009 decade by Billboard Magazine and ranking as the 5th top solo male artist and as the 4th top rapper behind Eminem, Nelly, and 50 Cent.