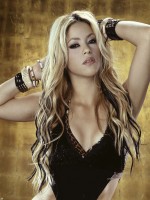 Shakira Isabel Mebarak Ripoll (born February 2, 1977), known professionally as Shakira is a Colombian singer, songwriter, musician, record producer, dancer, and philanthropist who emerged in the music scene of Colombia and Latin America in the early 1990s. Born and raised in Barranquilla, Colombia, Shakira revealed many of her talents in school as a live performer, demonstrating her vocal ability with rock and roll, Latin and Middle Eastern influences with her own original twist on belly dancing. Shakira is a native Spanish speaker and also speaks fluent English and Portuguese as well as some Italian, French and Arabic.

After commercial flops with local producers on her first two albums, and being little-known outside Colombia, Shakira decided to produce her own brand of music. In 1995 she released Pies Descalzos, which brought her great fame in Latin America and Spain, and her 1998 album ¿Dónde Están los Ladrones? was a critical success selling over 7 million copies worldwide. In 2001, aided by the worldwide success of her first English single "Whenever, Wherever" that became the best selling single of 2002, she broke through into the English-speaking world with the release of Laundry Service, which sold over 13 million copies worldwide. Four years later, Shakira released two album projects called Fijación Oral Vol. 1 and Oral Fixation Vol. 2. Both reinforced her success, particularly with the best selling song of the 2000s, "Hips Don't Lie".

She has won two Grammy Awards, seven Latin Grammy Awards, twelve Billboard Latin Music Awards and has been Golden Globe-nominated. She is also the highest-selling Colombian artist of all time, and the second most successful female Latin singer after Gloria Estefan, having sold over 50 million albums worldwide according to Sony Music Entertainment. Her U.S. album sales stand at 9.6 million

In the fall of 2009, Shakira released her sixth album She Wolf worldwide. Shakira's "Waka Waka (This Time for Africa)", was chosen as the official song for the 2010 FIFA World Cup. The song has received generally positive critical reception, and has become a worldwide smash hit and the biggest selling World Cup song of all time. On YouTube, the English version of the music video is the 3rd most watched video of all time with over 300 million views. Her seventh studio album, the bilingual Sale el Sol, was released October 2010 and has shipped over 4 million copies worldwide.