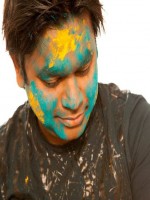 A.R.Rahman is an Indian film composer, record producer, musician and singer. His film scoring career began in the early 1990s. He has won twenty five Filmfare Awards, four National Film Awards, a BAFTA Award, a Golden Globe, two Grammys and two Academy Awards.

Working in India's various film industries, international cinema and theatre, by 2003, Rahman, in a career spanning over a decade, has sold more than 100 million records of his film scores and soundtracks worldwide, and sold over 200 million cassettes, making him one of the world's all-time top selling recording artists.

Time Magazine has referred to him as the "Mozart of Madras" and several Tamil commentators have coined him the nickname Isai Puyal ( English: Music Storm).