Music albums by Priyanka Chopra
Priyanka Chopra Albums

In My City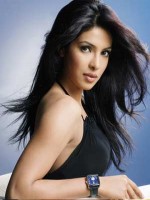 Priyanka Chopra (born 18 July 1982) is an Indian actress, singer and former Miss World. Before starting her acting career, she worked as a model and gained fame after winning the Miss World title in 2000. She is often referred to by the nickname "Piggy Chops", which was given to her by co-stars on the set of the film Bluffmaster! Chopra made her acting debut with the 2002 Tamil film Thamizhan. In 2004, she became the second woman to win the Filmfare Best Villain Award, which she received for her critically acclaimed performance in Aitraaz. Chopra would later have commercial success with films like Mujhse Shaadi Karogi (2004), Krrish (2006) and Don - The Chase Begins Again.

In 2008, Chopra received a National Film Award for Best Actress, as well as a Filmfare Award for Best Actress for her portrayal of a model in Fashion and has thus established herself as one of the leading contemporary actresses in Bollywood.

Music Career
Priyanka Chopra,a Trained Western Classical singer She had signed a worldwide recording agreement with Universal Music and Desi Hits!, a fusion entertainment platform, to record and release her first music album. She will release the album in North America with Desi Hits through Interscope Records and in other international markets on UK's Island Records. Troy Carter, chief executive officer of Atom Factory, who also manages Lady Gaga, will look after her music career across the globe. The album, which will be produced by Universal Music Group and Desi Hits will contain about ten pop songs. The album will release worldwide, sometime next year.Priyanka is currently in the studio, writing and recording her debut pop album, in English.

Tags: Priyanka Chopra music album, Priyanka Chopra english album, Priyanka Chopra english songs, Priyanka Chopra discography, Priyanka Chopra upcoming album, Priyanka Chopra album tracklist, Priyanka Chopra singer, Priyanka Chopra songs lyrics, Priyanka Chopra music album songs lyrics.