Haunted 3D - Songs, Lyrics and Videos
Year: 2011 Artist: K K, Suzanne D'Mello, Chirantan Bhatt, Jojo, Najam Sheraz, Nikhil D'Souza, Tia Bajpai
Share on Facebook
Share on Twitter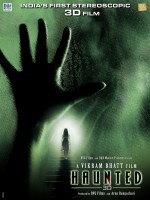 Haunted 3D: India's first Stereoscopic 3D film
A year and a half on since the release of Avatar and over 3 decades post the release of India's first 3D movie we
are all set to witness a new milestone in Indian cinema. A milestone that has been modeled around the same filming technology as the landmark Avatar. Slated to release in April 2011, Vikram Bhatt's upcoming movie 'Haunted 3D' holds the distinction of being India's first stereoscopic 3D film.