London, Paris, New York (LPNY) - Songs, Lyrics and Videos
Year: 2012 Artist: Ali Zafar Aditi Rao Hydari
Share on Facebook
Share on Twitter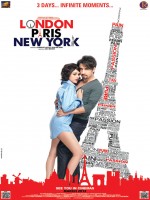 London, Paris, New York also known by the abbreviated form LPNY, is an upcoming Bollywood romantic film that marks the writing and directing debut of [Anu Menon] and stars Ali Zafar and Aditi Rao Hydari in the lead roles. The film is currently in production and is scheduled to be released in 2012.
The soundtrack and Background score is composed by Ali Zafar himself. Even the lyrics are written by the Actor / Singer / Composer / Song writer Ali Zafar.
The songs of the movie are sung by Ali Zafar and co-actress Aditi Rao, Sunidhi Chauhan and various female singers from Pakistan.
The soundtrack of the has 6 different tracks and is expected to release in end of the January 2012.

Ali Zafar said about the music of LPNY:
"Music is not going to be conventional. I want to create sounds that are fresh like our film, and since the film touches on different emotions I can experiment with genres. I will use as many 'live' instruments as possible to give the songs an organic feel."
— Ali Zafar

Tags: LPNY Songs, LPNY Lyrics, London, Paris, New York Songs and Lyrics, London Paris New York Ali Zafar, london paris new york movie, london paris new york bollywood, london paris new york hindi songs, london paris new york music.