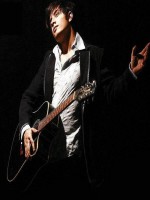 Ali Zafar was born on May 18th, 1980 in Lahore, Pakistan to Mohammad Zafarullah, Professor of Fine Arts and Kanwal Ameen, who worked in the Library Sciences department at Punjab University at the time.
Lahore is not only the place of birth for Ali, but also where he studied. He began his schooling at C.A.A. until 5th standard and excelled in his studies. He then moved to Beaconhouse School where he topped in his matriculate examinations in 1996. He then joined Government College University, where he completed his F.A. in Arts as the class of 1998. After that, Ali pursued his childhood love for painting and went to the "National College of Arts", from where he graduated with honors in 2002. Hence, completing his education.
Ali Zafar hit the music scene in 2003 with his single "Channo" which sold half a million copies in just the first week and ended up selling over 5 million copies of his first album "Huqa Paani". The album went on to become one of the biggest hits the country had ever produced and made him a superstar over night.
Prior to this, Ali was seen acting on television and modeling on the ramp. He also spend his evenings painting live portraits in a lobby of a 5 star hotel to help raise some extra money to produce his music.With his reputation of being a successful model,actor and a painter his move of releasing a dance single left the nation in awe. His tracks pumped up the dance floors at various weddings, balls and parties. This set a trend and the fever spread, increasing his fan following to a global scale. Apart from this his unique style became an inspiration to the youth and put him on a pedestal to becoming a national icon. He was awarded the "Youth Icon" award in 2007, by the biggest award ceremony in Pakistan: the Lux Style Awards. From then on there was no looking back.