Classically Mild - Songs, Lyrics and Videos
Year: 2008 Artist: Sonu Nigam
Share on Facebook
Share on Twitter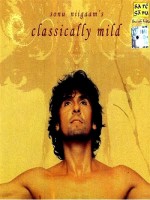 Classically Mild is a semi-classical album sung by Sonu Nigam. The album was released by Sa Re Ga Ma on 11th February 2008.
The album is Sonu Nigam's first official attempt at classical music. The music director is Deepak Pandit and the lyricist is Ajay Jhingran. While it was the former's first collaboration with Sonu Nigam, Ajay Jhingran had received the UP Governor's Award for his first album, incidentally with Sonu Nigam, the Hindu devotional album Sanskaar. Santosh Mulekar helped Deepak Pandit in the music arrangement and Pramod Chandorkar did the mixing for the album at Sonu Nigam's studio.

The album has 8 tracks, each exploring a different spectrum of emotions, including love, loneliness, praising women, patriotism as well as spiritualism.

Sonu Nigam describes the album on the cover as his "attempt to remind himself how far away (he is) from being a singer". He describes how hard he worked to achieve this level of perfection and how this was part of his efforts "to keep the student in (him) alive". He thanked all those who contributed to making the music and ended by dedicating the album to his then-newborn son Nevaan as his "Dad's gift of his honest labour" to him.

The song Soona Soona was the only one made into a video, starring Sonu Nigam himself, shown in the video in the avatar of a Greek god. There were plans for videos for some of the other songs but they never materialised. The album was a commercial and critical success although it was not played much on radio stations at the time.